About Phuong's Farm
1. Who is Phuong Vo?
2. Phuong grows in traditional glasshouses
3. Planting and harvesting patterns for capsicums in Virginia
4. Changes in soil and plant management
5. Benefits achieved by practice change
6. More useful resources

Who is Phuong Vo?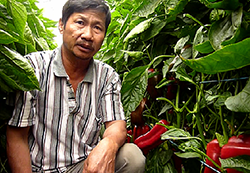 Phuong Vo was selected as the case study 'best practice' grower because he has been committed to adopting technically sound improvements in his soil and plant management practices for many years and has been assisting other growers with what he has learned. It has been clear that Phuong (and the growers he has assisted) have achieved very substantial benefits from the changes he has implemented. Phuong provides a clear and positive example of best practice and the gains that better management will bring to the bottom line for any grower.
Phuong came to Australia in 1982 and has had a variety of factory and service jobs until beginning farming in 1990. He now enjoys the independence and challenge of continually learning to be a better grower.
Phuong bought an established property that had been worked for over 40 years. The farm is 3 acres in size which now includes his home, two large steel sheds and four blocks of glasshouses totaling just over .5hectares (5,400m2) of production area. Previous owners had not cared for the soil and Phuong soon found he was unable to make a living because of very high salt and disease levels. He was only picking about 5-7 capsicums per plant if he was lucky and he lacked the experience to diagnose and fix his problems. He realized he needed to learn how to fix the soil and make his farm profitable or he would be ruined. As a result of much hard work Phuong has learned to grow many crops successfully. In the beginning he grew tomatoes and Lebanese cucumbers but has focused on capsicums for the last 20 years and eggplant for the last ten years.
Phuong grows in traditional glasshouses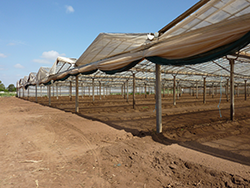 Phuong's glasshouses are quite basic so that he has to manage a lot of climatic challenges and develop his expertise under tough conditions. His structures are quite low, about 1.8m to the gutter. Because of this they are easier to heat in the day time but are limited in other ways such as:

> In sustained cold and cloudy weather, it is hard to keep plants warm leading to vigour issues.
> These structures can also be too easy to heat in really hot weather!
> Their low ceiling makes them harder to ventilate to reduce excess heat and humidity, but the sides and ends open to compensate for this.
> The ventilation surface area is probably too limited to consider using fine insect mesh to exclude flying insects.
Planting and harvesting patterns for capsicums in Virginia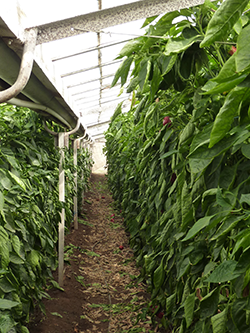 Phuong and many other growers in Virginia now mostly plant their capsicum seedlings in July rather than May or June, due to an increase in cold winter nights. This cold weather causes problems in a number of ways including more cold setting with less seeds producing thin, poor quality fruit. The cold also makes it harder to maintain root vigor and avoid diseases.
These crops are in the ground for about 10 months with 6-7 months of picking (a May planting takes about 4 months till picking and a late planting in October or November takes 3 months).
Changes in soil and plant management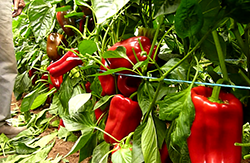 Major changes in Phuong's approach to preparing for each planting were triggered by compost trials conducted by SARDI, and irrigation and salinity trials conducted by the local NRM team and PIRSA (see video with SARDI researcher). Lessons learned from these trials caused Phuong to abandon chicken manure in favour of organically certified recycled green organics/animal manure compost. He also learned to modify his irrigation program and closely target his watering to meet plant needs in response to weather and changing soil conditions and root profiles.
Two other important practices are now more effective because of the compost:

1. Every few crops Phuong deep rips to improve soil drainage followed by light cultivation and 2-3 overhead leaching applications to push salts well down in the soil profile. This is much more effective now because of improvements in soil structure and drainage resulting from compost (see Module 2 for videos and more info).
2. Every few crops Phuong will use a total fumigant application throughout the greenhouse area (not just through the drippers) to manage root diseases, root knot nematodes and western flower thrips pupae in the soil. Compost creates a more evenly textured soil allowing better penetration of the pesticide. Phuong also has found that the compost helps to reduce the spread of any diseases that may return after treatment. This is probably because increased organic carbon has encouraged more beneficial microbes that compete with or even attack some pest organisms. Interestingly pathogens tend to be quite at home in salty degraded soil!
About 11 years ago Phuong also learned the key practices of IPM including weed control, crop hygiene, spray coverage, pest life cycles and chemical rotation. As Phuong's soil has improved he has reduced his plant density making it easier to achieve good coverage with applied pesticides (see IPM information: Managing pests & diseases). As the local area has suffered from increasing pesticide resistance problems and resulting control failures Phuong has been able to keep his losses in check compared to most other growers. However resistance problems are becoming increasingly severe and Phuong is likely to adopt a locally proven bio-control program for next year, capsicum crop (see bio-control videos under Managing pests & diesases).
Benefits achieved by practice change
Phuong began changing his cultural practices about eight years ago in major ways. Since then he has achieved a consistent increase in productivity. A crop now will produce 3 fruit sets with about 6-7 fruit per set, averaging 20 capsicums per plant. In the past he was more likely to get 12 fruit per plant and 2 sets at best. Overall improvement in yields is around 67%, including an increase in first grade pick from about 75 % to 91%!

As Phuong's soil has improved and supports greater plant health his plants have become more vigorous and produce more fruit. Very few plants are weak or dying from stress and disease so more plants are producing more fruit.
Phuong has taken this opportunity to reduce his plant density from 6 to 5 rows per house and found his overall yield still increased! In fact his plants are now too strong to plant at the same density. If Phuong kept planting at the same density his plants would be competing strongly with each other and limiting their individual production output. So by reducing plant density the remaining plants have the vigour to produce more making up for the reduction in plant numbers.
Phuong also saves costs on seedlings and labour on training plants in an over-dense crop. There are probably some minor fertiliser savings by feeding fewer plants and their leaf canopy.
The reduced plant density makes pest control easier and more effective. Labour is reduced and spray coverage is improved with more open space between rows. This increases his ability to use other non-systemic chemicals effectively. Plants are healthier than they would have been if overcrowded.
Useful resources
Click here for:
Module 4: A cost-benefit summary of Phuong's planting and production output based on a single block of 8 small glasshouses. To compare some of your practices, costs and yields to Phuong's. To look at the possible benefit of making any changes.
Click here for:
Module 1: Essential knowledge for successful greenhouse growing
Module 2: Phuong's preparation and planting
Module 3: Phuong's crop management practices